The New York Times was blasted as "straight-up propaganda" on Thursday after the liberal newspaper published a glowing headline about President Biden's $2.3 trillion infrastructure spending plan.
The plan has been widely criticized by Republicans, but the Times gave no indication of objection from the right with the headline, "BIDEN PLAN STRESSES JOBS, ROADS AND GROWTH."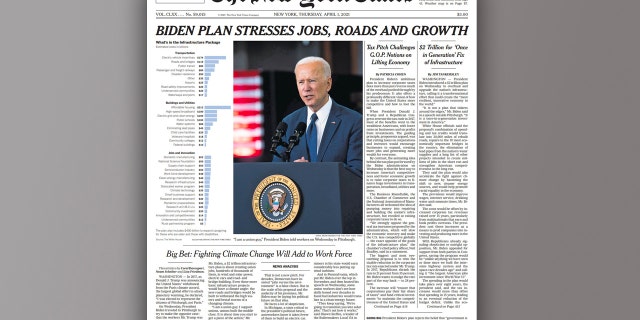 The Federalist senior editor Mollie Hemingway slammed the paper for its over-the-top coverage of the plan that Fox Business host Larry Kudlow called a tactic to retract former President Donald Trump's tax cuts.
AVERAGE AMERICANS NEED TO 'STOP READING AND WATCHING CORRUPT CORPORATE MEDIA': HEMINGWAY
"Brazen, cartoonish, straight-up propaganda. As if written by White House staff for the most gullible and easily controlled idiots in the country," Hemingway wrote.
Hemingway recently scolded the mainstream media, labeling most of the press "Democrat activists in the propaganda field."
RealClearPolitics co-founder Tom Brevan shared an image of the Times' front page and asked Hemingway, "Is this what you're talking about?"
Even CNN's left-wing media pundit Brian Stelter, who used to work at the Times and typically defends the Gray Lady at all costs, noticed the friendly headline. "Quite different banners about Biden's rebuilding plan atop WaPo and NYT," he wrote.
The Washington Post's front-page headline said, "Biden's $2 trillion plan draws opposition."
Many others chimed in on Twitter about the Times' headline: 
It had one prominent fan: Biden Chief of Staff Ronald Klain.
CLICK HERE TO GET THE FOX NEWS APP
The Times is hardly the only mainstream news organization to fawn over Biden's costly plan.
Earlier this week, CNN published a piece about the infrastructure proposal that claimed it was a "window into Biden's soul," which many readers blasted as propaganda and kissing up to the Democratic president.