A quiet forecast is in store for most of the country this week with the exception of parts of the Southeast, mid-South, Tennessee and the Ohio Valleys, where a stalled front will be the focus for showers and thunderstorms across the region.   
Flash flooding will be possible as the ground is saturated and the water has no place to go.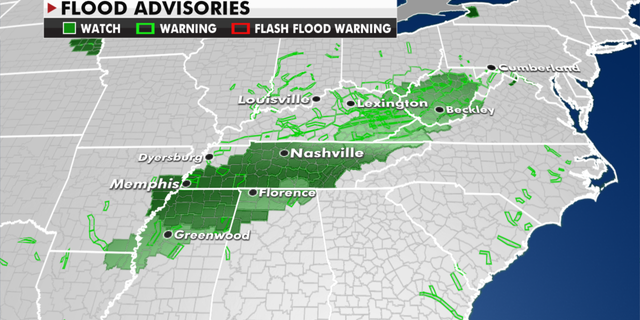 Light snow and/or freezing precipitation will be possible over the Appalachians Tuesday night into Wednesday. 
MASSIVE 30-CAR PILEUP IN MONTANA BLAMED ON ICY BRIDGE
Some snow is also forecast across the Great Lakes and interior Northeast, but the rest of the country remains calm and dry.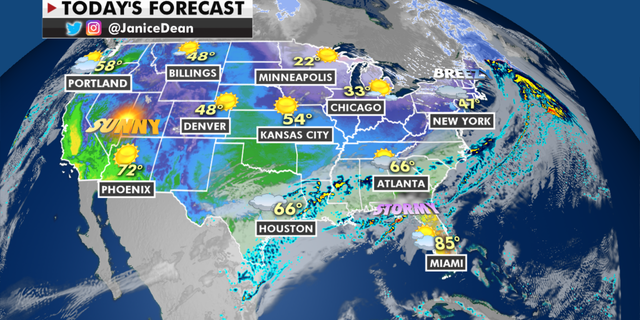 CLICK HERE TO GET THE FOX NEWS APP 
Warmer-than-average temperatures are expected for the East Coast before they become cooler tomorrow.   
The Northern and Central Plains will enjoy warmer than average temperatures tomorrow with daytime highs into the 50s and 60s. 
Janice Dean currently serves as senior meteorologist for FOX News Channel (FNC). In addition, she is the morning meteorologist for FNC's "FOX and Friends" (weekdays 6-9AM/ET). She joined the network in January 2004. She is the author of several books. Her latest is "Mostly Sunny" (Harper Collins, March 5, 2019) Click here for more information on Janice Dean.